"

Do you require Simplified or Traditional Chinese

"

?
When requesting a translation into Chinese one of the questions you should be asked by your Translation Provider is "Do you require Simplified or Traditional"?
Firstly, Traditional Chinese and Simplified Chinese are two different languages, translating into the wrong language can be a costly mistake. It is also a myth that all Chinese speakers understand both languages.
Briefly, Simplified Chinese was introduced in 1952 by the PRC (People's Republic of China). However, discussion on simplifying the language was as early as 1909 when a Chinese educationist and publisher proposed that simplified characters should be used in education.
As the name suggests Simplified Chinese is a simplified version of Traditional Chinese. The structural aspects of writing have been simplified (i.e. number of strokes) as well as a reduction in the number of standardised Chinese characters.
For example: English to Chinese translation of 'workbook'
工作簿 = Simplified Chinese
工作手冊 = Traditional Chinese

So who uses which language?
Simplified Chinese characters – mainland China
Traditional Chinese characters – Hong Kong, Macau and Taiwan
From a translation company perspective; Based in the UK, we are fully aware of the differences and work with our Clients to ensure they use the correct language. We have a number of professional translators based in China who can only translate into Simplified Chinese.
As you would expect, there is a much smaller group of professional translators who translate into Traditional Chinese. I would add the reason for the difference is not only because there is a lesser need but also that Traditional Chinese is generally not taught in schools.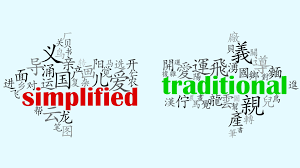 I want to know more about simplified and traditional Chinese. Please contact me